Employment Law
Solicitors
Representing our clients with Professionalism, Empathy and Integrity.
Commercial and Individual Legal Representation
Difficult workplace situations can often be resolved without the need for tribunal proceedings through mediation and other dispute resolution methods. However, if these strategies are not successful, we will passionately and diligently fight your corner in order to protect your interests and secure the best possible outcome without any tribunal proceedings.
Cashell Solicitors will take great care to learn as much about your situation as possible and clearly explain what will happen at every stage of the process. We have extensive experience acting for employees at all levels on a wide variety of cases, so you can be assured that you are in safe hands.
We can assist you in all eventualities of employment issues including:
Advice and representation for employers and employees.
Employment contracts.
Employee handbooks and Health and Safety compliance.
Internal grievance procedures.
Termination of employment proceedings.
Bullying and harassment.
Representation before the Employment Appeals Tribunal, the Equality Tribunal and Labour Court.
Whatever your situation, even if you are unsure of your rights, we can reassure you of where you stand and help you find a solution to what is often a very difficult time.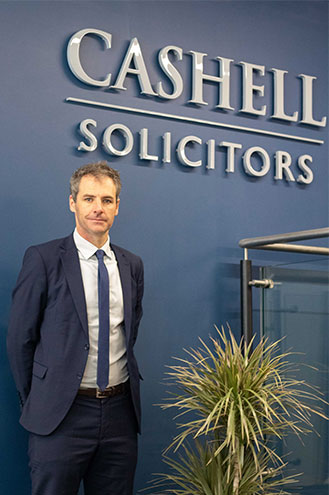 DAMIEN CASHELL, SOLICITOR
PROTECTING AND GUIDING YOU
Do You Have A Legal Emergency?